Tech Repair Info
---

The TecHUB Repair center will be closed for rush week August 21, 2023 - September 1, 2023
UH Manoa is an Apple Authorized Service Provider
Is your Mac not booting up? Flashing folder? Video distortion? We can help! Drop by the UH Manoa Bookstore TecHUB Services and let us take a look. As an Apple Authorized Service Provider, we can help with hardware repairs, data transfer, general troubleshooting, and much more!
---
Frequently Asked Questions
Who is eligible for repair services?
All UH students are eligible for repair services from the TecHUB, located within the UH Manoa Bookstore.

How do I know if I'm covered under the limited warranty or the AppleCare I purchase?
We can check for you by calling us at 808-956-3881 or you may check here: https://checkcoverage.apple.com/. If your Mac is covered under the AppleCare Protection Plan or the Apple one-year limited warranty, then servicing your Mac is free*!

What do I do if I'm not covered under the warranty?
If your Mac is no longer covered under warranty, you can still service it here. We provide a free estimate and you will always be consulted before any further actions are conducted. Hardware costs are assessed on a case-to-case basis.

How do I get my FREE quote?
We are conveniently located on campus within the UH Manoa Bookstore. Stop by the TecHUB Counter as we take in repairs on a first come, first serve basis. Even though we ask for about 24 hours to generate your quote, we do strive to keep our turnaround times quick with every repair.

Forms of payment?
We accept IDO's, PO's, RCUH PO's, Visa, MasterCard, and Discover. You pay for your repair when you pick-up your Mac.

*Apple's Policy for their limited warranty and AppleCare Protection Plan applies.
---
Repair Services
The TecHUB Repair center will be closed for rush week August 21, 2023 - September 1, 2023
Click on the ticket below to fill out a repair form. Once you complete the form, grab your device(s) and drop it off to us. Don't worry if you didn't get a chance to submit your repair form, we can fill one out in the store when you drop off your device.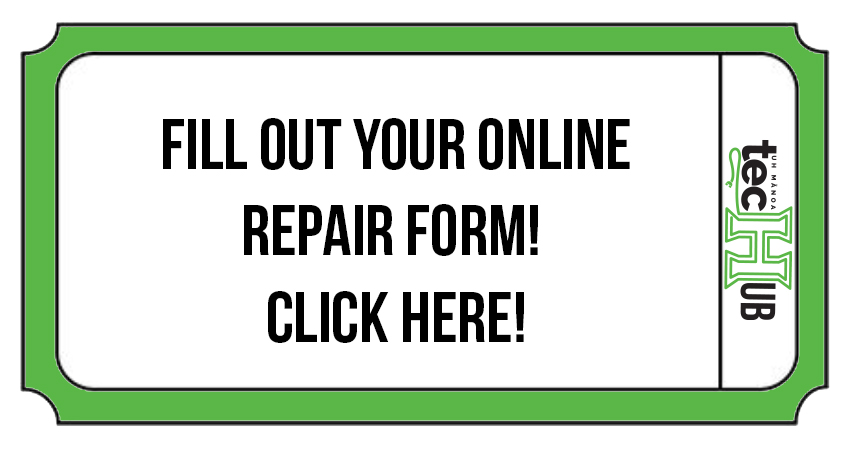 ---
Need a Quote? Contact us today!
Just drop by our sales counter or call/email:
Apple Certified Technicians
Phone: (808) 956-3881
E-mail: compfix@hawaii.edu