Textbook Order Resources
---
Informational Flyer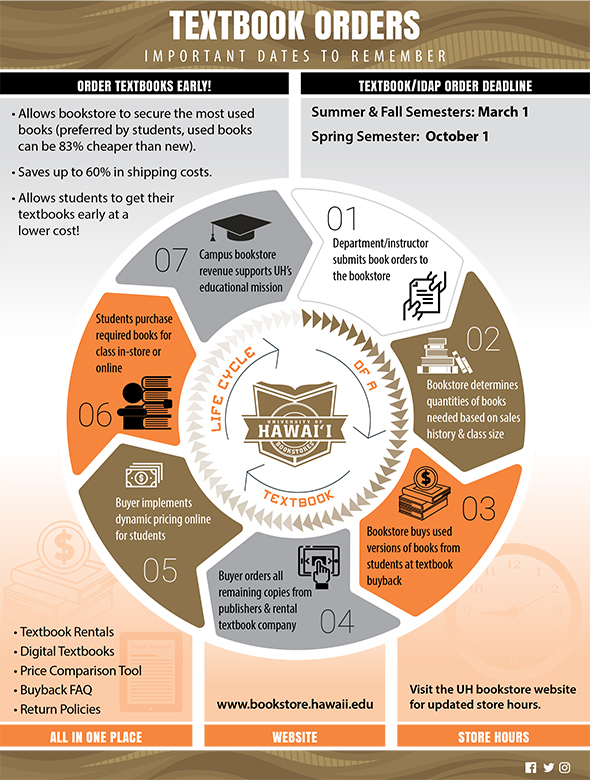 Download Flyer (PDF)
---
Contact Us
If you have any questions, please contact the book information desk at
kccbooks@hawaii.edu
or call (808) 734-9589.
---
Book Order Process Frequently Asked Questions (FAQ)
(click on questions to view answers)
The textbook order deadlines are:
Summer and fall semesters: March 1
Spring semester: October 1
If you are unable to meet this deadline, please submit your textbook order to the bookstore as soon as possible. Meeting the textbook order deadline creates the opportunity to secure textbooks when they are at their lowest price. It also gives the bookstore the advantage of purchasing used books at its highest availability rate and allows the bookstore to use more economical methods to ship the books to Hawaiʻi.
Yes, if a course has a possibility of being offered, the bookstore would still like to have the book order submitted. In the event that the course is cancelled, the bookstore will remove the textbook(s) from the shelf and return to the vendor at no cost to the department.
Yes, if the textbook order has not been worked on by the bookstore, the department can remove the title from the course in the textbook order online platform. If the textbook order has been approved by the bookstore yet, contact them at (808) 734-9589 or kccbooks@hawaii.edu as soon as possible, so they can cancel the title before the publisher ships.
No, the publisher will not allow the bookstore to request desk copies. The department will need to submit the request directly to the publisher.
Yes, submit the information using the "Add Manually" tab on the textbook order platform. Providing this information will benefit students as they will be able to look at one site (bookstore website) and see all their course materials.
Yes, we request that you include a note/comment stating that you will be directing students elsewhere. The reasons why we want a textbook order submitted:
Many students are on a book scholarship and can only use those funds at the bookstore. Submitting a textbook order ensures that the bookstore brings in copies to accommodate these students.
If students cannot, or prefer not to, order from a third-party, we will have the book in stock for them to purchase.
The bookstore works with wholesalers, publishers and distributors to offer various cost effective options for our students, including used books, e-books, IDAP and loose-leaf options. The bookstore also offers a price comparison tool on their website that allows students to view third-party options. This is a centralized, one-stop-shop, site for students to purchase their books.